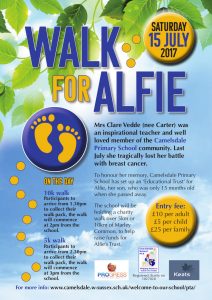 Please join Keats Estate and Letting Agents in supporting the 'Walk for Alfie' on 15 July, from 2pm, at Camelsdale Primary School.
Keats is pleased to sponsor this special event in memory of the much-loved former teacher Clare Vedde who sadly lost a battle with breast cancer last July.
Camelsdale Primary School has established an Educational Trust for her young son, Alfie.
Funds are being raised through the entrance fee of £10 an adult, £5 a child, or £25 for a family. It is a community walk over 5 or 10km, followed by refreshments and a BBQ at the school.
To join the walk please download a registration form by clicking HERE