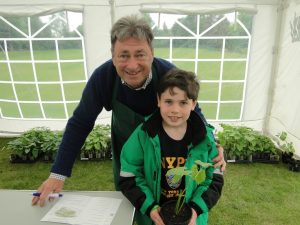 The Royal School enjoyed record numbers at its seventh annual Grow For It event, hosted by Alan Titchmarsh and supported by Waitrose.
This was a wonderful opportunity for The Royal School to share its beautiful grounds and exceptional outdoor learning facilities with over 600 children under 11 taking part in activities from pond dipping to mini beast hunting, making a butterfly feeder to painting a rock bug, sowing grass caterpillars and planting a pot to take home.
This free event, brainchild of Alan Titchmarsh, is about connecting children with nature, increasing their understanding of the world around them and having fun outdoors! With technology playing an increasingly dominant role in our lives, Mr Titchmarsh is concerne
d that children view the natural world as a spectator, rather than getting involved.  Grow For It encourages children to get outside and get their hands dirty!
"I want to open children's eyes to the wonder of nature in a fun and engaging way.  The aim of the event is to help children develop an understanding of and respect for our living world and to foster a desire to protect our environment.  Helping families get children outdoors is very important. It allows children the opportunity to observe what is around them and understand their place in the world."
Mr Titchmarsh explains that issues such as climate change can feel too large to deal with as an individual, but that if we all do something small to improve our outdoor space then th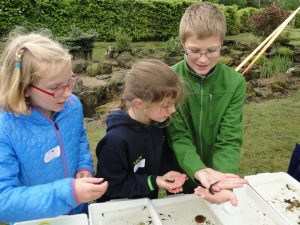 ose little things can make a huge difference.
He is involved with the charity Butterfly Conservation and a project to encourage local councils to delay cutting some roadside verges until later in the year.  He explains that if verges do not need to be cut to maintain visibility, then delaying cutting until August allows wildflowers to set seed and improves wildlife habitats, it also saves council money.
"Small things do make a difference.  For example, if you plant a flower that is good for pollinating insects you will have bees and butterflies there in hours! The power of gardening and gardeners should not be underestimated."
Asked why gardening is so important, Mr Titchmarsh said: "I believe gardening feeds our bodies and our souls.  Being outdoors allows children (and adults!) to feel a sense of release and lets the imagination soar."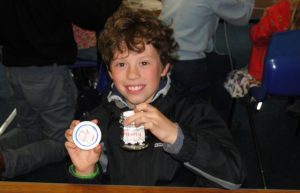 Grow For It culminated in a wonderful Q&A session with enthusiastic questions from the children including What is your favourite plant? and What can we do about worms inside our raspberries?
Alan Titchmarsh is currently filming the seventh series of Love Your Garden, which airs in June on ITV.  The show is about transforming gardens of people who deserve a helping hand outdoors and, through the garden, enriching and in some cases transforming their lives.