The Essential Guide to Cafés & Coffee Shops in Haslemere
Café culture is often associated with the sophisticated capitals of Europe, such as Paris and Rome. Socialising while sipping a hot coffee, or a decaf chai tea with soy milk, discussing the latest news and gossip is not confined to the pavements of our European neighbours, but is alive and well here in Haslemere.
The town boasts many coffee shops and cafés in which you can have your tea and daily dose of topical conversation. Or if mingling is not your thing, then many offer free Wi-Fi for you to use on your laptop or handheld device.
Haslemere's coffee shops and cafés offer the perfect pit-stop for those hectic shopping trips, an ideal impromptu office, or a cosy catch up with old friends or new acquaintances. Furthermore, many also hold events that provide entertainment or open later to provide an evening alternative to the local pubs and restaurants. Several also sell a tasty range of delicatessen for you to take away and/or unusual homewares. There is also one café that has soft play for smaller children and another where you can create your own pottery while enjoying your favourite brew.
From the good-old British greasy spoon serving up all day breakfasts, to French-style bistros offering croques monsieur, to coffee shops pouring frothy lattes with flavoured syrups, Haslemere spoils you for choice when it comes to cafés.
The Hen House
The Hen-House is a soft play café for children in the centre of Haslemere. In addition to soft play, we provide healthy children's (and adult!) food, really fun parties, morning classes for toddlers, and have just started a before and after school club for children at Grayswood, Shottermill and St Barts. Parking is super easy, as we are located at the back of Waitrose Carpark between Fired Earth and The Hair-Chair. 14 Lower St, Haslemere GU27 2NX 01428 658946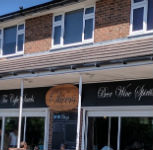 Oliver's Coffee Shop and Wine Bar
Oliver's Coffee Shop is a quaint coffee shop Haslemere town centre, the perfect location for a hot coffee or a glass of wine with friends. The Shop and wine bar serves a selection of food including hot and cold sandwiches, paninis, breakfast, brunch, soup, sharing boards and home made cakes.
3 Charter Walk, West St, Haslemere
07921775966
Other Cafes & Coffee Shops
Darnleys
3 High St, Haslemere GU27 2JZ 01428 644427
Barista Coffee
Charter walk, 3 West St, Haslemere GU27 2AD 01428 664464 www.baristahaslemere.co.uk
The Metro Cafe
Lower St, Haslemere GU27 2PD 01428 651535 www.themetrocafe.co.uk
Gilly's Cafe
Stable Market, High St, Haslemere GU27 2HJ 01428 652919