This weekend it's 'GO' for hogs and bunnies as two Chamber-backed initiatives to support local business launch officially on Saturday 1 April.
There's an element of holiday fun in both but the Easter Bunny Trail and Haslemere Hogs are designed to encourage footfall in the town's shopping areas – the town centre, Wey Hill, Hindhead and Beacon Hill – with Haslemere Hogs also aiming to raise money for the Mayor's charities.
The Easter Bunny Trail involves visiting as many as possible of the 50 participating businesses to find a chocolate bunny on display – and answer a question about it. There are some nice bunnies to be won for Easter! It is hoped that the trail will encourage parents will accompany their children and visit both familiar and 'new' businesses.
After Easter, this project enters its second phase, when parents will be able to take part in an exciting Spend and Win competition. There's one big prize on offer at the end of the month – a bundle of 'small but nice' items donated by each of the participating businesses.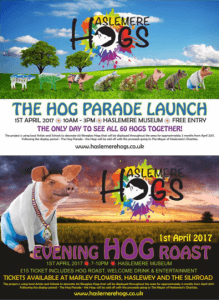 The 60 Haslemere Hogs – all decorated painted by prominent artists or school groups and sponsored by businesses, individuals and bodies such as the Chamber – go on display at Haslemere Educational Museum tomorrow – it's just for one day, and it is the only time all the hogs will be on show in one place.
The hog parade will be open from 10:00 to 15:00 with free entry. Hog merchandise, including limited edition mugs, will be on sale to help the overall fundraising project and enable people to have a keepsake of their favourite pigs.
In the evening there will be a celebratory hog roast at the Museum. Tickets for this, at £15 a head, can be obtained from Marley Flowers, Haslewey and the Silkroad.
After this, the hogs will be placed in key positions round the town, encouraging residents and visitors alike to follow the hog trail and have a closer look at Haslemere and what it has to offer. In July, the hogs – some carrying celebrity signatures – will be auctioned.
The Chamber urges all hog sponsors – and other businesses – to use every opportunity for promoting the  project.