Main picture: Hampton Court Skaters by Roger Dellar
AppArt's annual Easter art exhibition and sculpture trail continues to grow its reputation as a showcase for some of the finest artists in the South East. Last year's appearance on BBC South Today widened its appeal and led to record attendances.
Haslemere based artist Roger Dellar will open AppArt on Friday 30 March (Good Friday) and will be one of many distinguished artists on view. Roger Dellar is a professional figurative artist who works in oils, pastels, mixed media, acrylics, and water based media.
Roger's paintings have an impressionistic feel to them. Many of his paintings have dark under tones and accents of light and this enables him to capture that moment in time of his chosen subject. "Hampton Court Skaters" is a good example of this.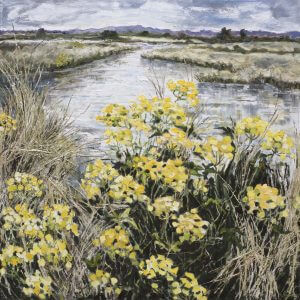 Roger is a member of several national art groups including the Royal Institute and he is also President of the highly prestigious group of painters called the Wapping Group. He exhibits widely and is a popular tutor and demonstrator, teaching in England and several other European countries.
Other artists in the Haslemere area include painter Christine Thompson. Her speciality is landscapes and one of her popular subject is the South Downs countryside. "Wild Flowers, Pulborough Brooks"  (right) in oil has a strong textured foreground that draws you in with the hint of the hills in the background and a squally sky.
Christopher Cole has a loyal group of painters that attend his courses in Haslemere and abroad in the Algarve. His local paintings such as "The Golden Brook" are finely detailed and his use of dappled colours and reflections convey movement and meaning. Susan Fisher works with pen and watercolours and her garden scenes are skilfully produced and "blowing in the wind" nicely combines domestic activities with the outside setting.
Ruth Bacmeister paints on a miniature scale but her work shows intricate detail, often of local scenes.
Photographer Peter Searight (The Remarkable Studio, based in Lynchmere) had an amazing year in 2017 winning national awards for his photography including the Masters Photographers Association National Fine Art Prize for his image "Wave in the Woods"  as well as a Gold Medal from the Royal Horticultural Society at Chelsea.  He will be showing "Perfect Winter's Day"(left) which was one of his Chelsea Gold Medal portfolio.
Sculpture is a major feature of AppArt's indoor exhibition and outside
on the sculpture trail with normally over 100 large pieces. Christine Suzman's ceramic animals are so lifelike and they are set off with brilliant "Chinese like" glazes. This year she has also submitted "wary" bronze cheetahs.
David Paynter paints and sculpts and runs a very successful Open Studio in June at his "Artful Gallery". "Father & Son" a semi-abstract sculpture in black bronze, is a striking example of his work.
All mediums are included and Julia Webster produces colourful works in glass. She uses both casting and blowing techniques and creates wonderful and technically difficult sculptures.
Co-founder
of AppArt, Evelyn Phillips has also taken up sculpture again after a long break and her abstract family group "Sunday Stroll" has a Giacometti feel to it and she is already planning other sculptures with a similar theme.
Many of the local AppArt artists took part in the "Haslemere Hogs Parade" and are currently busy designing "Hare" raising ideas for 2018.
AppArt's Easter Exhibition and Sculpture Trail is open from 10:00 to 16:00 from 30 March to 14April at Priors Field School, Godalming. Entry is free, refreshments are available and a warm welcome is assured.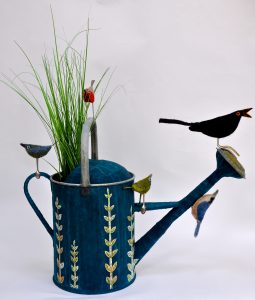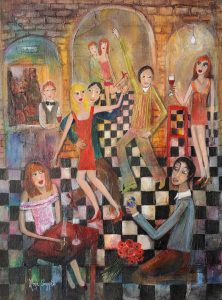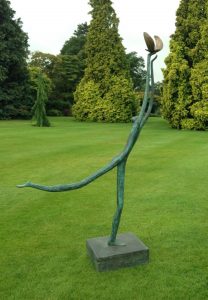 For further information go to:
and or https://www.facebook.com/AppArtSurrey
Gwyn Phillips
AppArt