It's no secret, that times have been very tough for the UK travel industry over the past 8 months, but we are a resilient bunch, who are not afraid to roll up our sleeves and work hard, to save our industry.  We do this, so that we can once again provide our clients with the most amazing holiday experiences and memories that they will cherish for a lifetime.
Sadly, the support that the government has given to other industries is not forthcoming for us travel folk, so instead we have come up with our own initiatives to inspire our clients and bring them some wonderful holiday offers…..think 'Eat Out To Help Out', but for holidays.
Holiday To Help Out
The 'Holiday to Help Out' campaign will run from 2nd to 8th November 2020 and will be the most amazing week, filled with holiday inspiration and wonderful travel offers EXCLUSIVE to travel agents……and the only way you can book these is via an agency, such as Haslemere Travel.  Don't worry, you don't have to travel this week, just just book your future holiday during this week.
Over 100 of our amazing suppliers are getting involved, so please do keep checking the Haslemere Travel website for the latest additions and the offers available.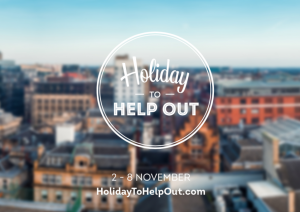 How Can You Get Involved?
Pop into the office (top of the High St), call us on 01428 658777 or email gemma@haslemeretravel.co.uk
If you are social media savvy, please follow Haslemere Travel on Facebook & Instagram (@HaslemereTravel) where we will also be posting regular updates.
Please forward this initiative to friends and family, who would also like to take advantage of what 'Holiday To Help Out' will offer them.  They/you can also sign up for their own regular emails via our website.
Whether is a holiday in the sun, a cruise, city break, villa, activity holiday, safari, ski or anything in-between, we very much look forward to helping you snap up a holiday bargain.