Boutique store in West Street open until January 2020
Curated Living has opened a temporary boutique pop up store in Haslemere town centre, offering its customers a unique and
eclectic range of lifestyle and homeware curiosities. Predominantly an online store with a boutique showroom in Weyhill, this new pop-up space gives Curated Living the perfect opportunity to showcase its treasure trove of unique finds to the wider Haslemere community and its visitors.
Launched in June 2015 by Kim Scillitoe, a space designer and owner of a retail and corporate design studio, Curated Living was born from Kim's love of all things unusual, quirky, bright and colourful. Sourced from around the world, products are selected for their eccentricity and charm, including: authentic vintage finds; interesting home décor; beautiful handmade accessories; luxurious and natural bath and body collections; and truly unique creations from local and international artists and designers.
Authentic Vintage Finds
Sourced from the best vintage and antique markets across the country, Curated Living offers a variety of unique pieces that add a touch of nostalgia to the home. Articles range from centuries-old steam trunks, retro wind-up clocks and watches to distinguished items of furniture and exquisite antique mirrors, which once adorned the walls and halls of stately homes or French châteaux.
Statement Lighting
Curated Living is the only UK retailer to stock the delightful vintage lamps from Paris-based designer brand, Kiki L'eclaireur. These quirky creations combine vintage lampshades with retro items for the lamp base, such as dial telephones  or wind-up clocks. Other lighting collections include the intricately handcrafted chandeliers from Merci Louis, an opulent lighting range inspired by 17th and 18th century France; and the mesmerising works-of-art from Vox Populi, handmade from recycled and vintage materials, they each tell a story of whimsical fairytale and romance.
Beautiful Handcrafted Fashion
Inspired by unusual designs, sumptuous textures and high quality materials, Curated Living sources exclusive handmade items that reflect
chic and distinctive styles. These collections include a luxurious range of handmade cashmere, silk and virgin wool scarves from Feneun, and supersoft alpaca fur scarves and accessories from Samantha Holmes. Further collections include stunning, one-of-a-kind jewellery from Israeli designer, Ayala Bar and stylish leather and wool handbags from TM collection and Hayley Menzies.
One-of-a-Kind Collectors Items
Curated Living is a devoted supporter of artists and designers whose styles are fascinatingly original and quirky, like the wonderfully unique range of papier mâché creatures from renowned British folk artist, Julie Arkell. Since its launch, Curated Living has stocked these eccentric characters that are created from old paperback books and vintage wools and fabrics. Each bears a personal name patch making them one-off collectors items.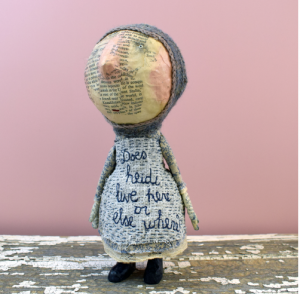 Luxurious and Natural Bath & Body Ranges
Curated Living offers a handful of sophisticated bath and body ranges, rich in high-quality natural ingredients and infused with heavenly scents that create a sense of relaxation and wellbeing. Collections include Bastide, The Cottage Greenhouse, Lollia, Library of Flowers, Castelbel and Panier des Sens.
… and so much more
Curated Living is the home of beautiful and fascinating items for the discerning customer looking for items that reflect their unique and celebrated qualities.