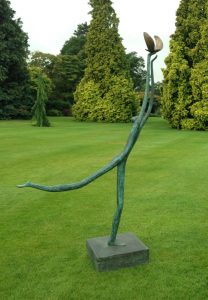 AppArt is delighted that internationally renowned sculptor Philip Jackson will again take part in the annual exhibition and sculpture trail at Prior's Field School in Godalming.
Last year Philip opened the exhibition so we were very pleasantly surprised when he agreed to show three of his Venetian inspired sculptures. "Skittles with Scarlatti" will feature on the sculpture trail. This is a really striking piece with Philip's hallmark grand headdress catching the eye.
There are lots of other high quality sculptors showing this year, many for the first time.
Marie Ackers "Three Riders" (main picture) is a strong piece and Jeremy Moulsdale produces wonderful ephemeral works such as "Dream Chaser" (right).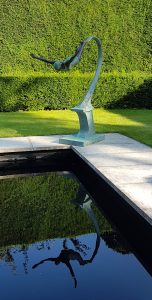 Mark Swan is known in the Haslemere area and he has shown his sculptures at the museum in recent years. "No return" is a step into the unknown and "Diva Reflects" (left) is a beautiful flowing piece with brilliant copper patination.
Chamber members have an open invitation to attend the opening on Good Friday (30 March) from 10:00 and Roger Dellar will be this year's guest of honour.
Tickets can be booked online 
AppArt Exhibition will run from Friday 30 March to Saturday 14 April from 10:00 to 16:00 daily.  Admission is Free and refreshments will be  available.