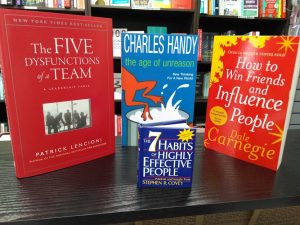 Have you been intending to find out how to win friends and influence people (Carnegie), what the seven habits of highly effective people are (Covey) or the five reasons teams don't function (Lencioni)? If so, now is the time! The Haslemere Bookshop is offering Chamber members a 10% discount on any management or business book and 25% off our featured book-of-the-month.
As well as saving money on management classics, there are many recent thought provoking books available. We have a selection of the best in the Bookshop, and regularly update our stock with new ones that are well reviewed in the business press or we think are too good to miss. If we don't have the one you want, we can order in most titles for next day delivery.
The featured book will be announced in the first Chamber newsletter of each month. To receive their discount members should confirm the name of their business and that they are a Chamber member when making a purchase or placing an order. To check if we have what you want in stock or place an order, contact us by 'phone (01428 652952), email (books@haslemere.com) or direct message through our social media channels.