Some of our members have reported receiving spam emails appearing to involve the Chamber's website. If you receive one – or anything similar – please take the precautions below to protect yourself and your computer.
What do these spam emails look like?
Both examples refer to "Haslemere Chamber of Trade and Commerce | News about Haslemere Chamber and its Members", are invoices and request payment. They claim to be from City Sign & Graphics or the Cosmic Intelligence Agency – both of which appear otherwise to be legitimate organisations, in Coventry and Melbourne, respectively.
What should you do?
Do not click, open or reply to the emails. Move the email to a spam folder, if you have one in your email application, or delete the email. Ensure your antivirus software is up to date and run a scan to ensure your computer is not infected.
How did this happen?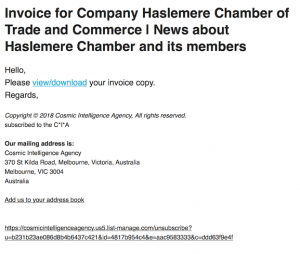 We believe the Chamber's website may have been raided by an email scraper. These programs trawl websites and pick up anything that looks like an email address which can then be used to send spam emails. We do not believe the Chamber's website has been infected with a virus, more "scraped" from the outside.
We apologise for any inconvenience this may have caused.
Advice contributed by PAAC-IT